The last two years have brought tremendous change, forcing us all to adapt and adopt technology, processes, and initiatives to stay connected virtually in an era where live interaction has been mostly restricted. The communication and collaboration market was front and center in making this possible.
But we're not done and there's still a lot of catching up to do on the regulatory and compliance aspects to ensure interactions in virtual settings have the same oversight as those that would take place in a physical office. Here are the top 10 predictions for 2022 as we look to the future of communications, collaboration, and compliance.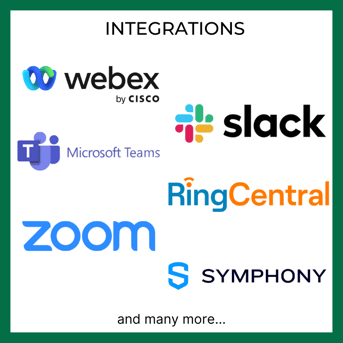 With 91% of companies using between two and six collaboration platforms like Microsoft Teams, Webex, Zoom, Slack, and more, organizations will seek a better way to apply consistent security and compliance policies across platforms.


Based on compliance, security, and liability concerns, organizations will begin to broaden archiving and risk-centric review of video meetings and webinars across regulated employees and groups such as sales (pre-and post- sales), customer service, human resources, and legal teams.


Regulators in North America, UK and Europe will begin to ask for proof of programs and procedures for record keeping and supervision of digital communications, including coverage for video, voice, and chat meeting tools.


Communications records across digital channels including video, voice, and chat will play an increasingly important role in regulators' remote oversight of firms, with growing requests for large volumes of data to analyze.


More examples of liability from leaked chats, online meetings, and similar digital channels will harm organizations across industries. This is likely to include sensitive and private data from individuals as well as organizations, along with examples of bad behavior leading to investigation, censure, employee termination, and more.


Pure-play collaboration tools that specialize in one communication type such as video or or chat will attempt to broaden into multi-channel, unified communication providers by consolidating, through partnership, or through product development.


Regulatory scrutiny of the controls for remote and hybrid working will proliferate worldwide as instances of misconduct, market abuse and data leakage come to light.


The controls in place for meeting security and compliance obligations when using collaboration tools will become a focus of boards as weaknesses and breaches make the headlines.


Internal auditors and regulators will build reviews of supervision and record keeping of communications into their work programs, driven by the risks around speed of adoption and complexity of having multiple platforms in place.


As firms incorporate more and more individualized and personalized videos into their sales and marketing programs, the volume of video content will increase, which will require technology that streamlines the supervision of those videos, identifying areas of risk or non-inclusion of disclaimers.
Have a safe, secure and compliant 2022!
To learn more about how Theta Lake can help you address capture, archiving, surveillance, and risk identification in your communication and collaboration platforms, contact us! We'd love to walk you through a demo.