With the centralized "in-person office" as we know it evolving to collaboration tools centered work-from-anywhere, it is no secret that this year has been challenging for most professionals regardless of their industry. This "new hybrid office" now lives inside the four corners of your computer screen regardless of your physical presence at home, in an office, or somewhere in between. From video conference calls to chat bubbles, our technology has undeniably been tested in a variety of new ways.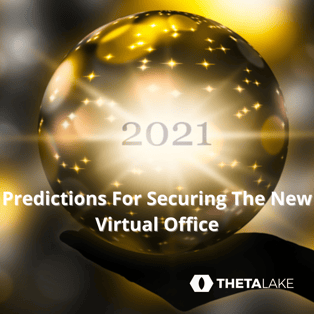 In the first half of 2020, Cisco Webex reported a 600 percent increase in use, Zoom a 350 percent increase in its business overall, Microsoft Teams a 300 percent increase in use, and Slack a 200 percent usage increase. It is apparent that this "new" way to work is becoming the way to work and there are a few things that organizations need to keep in mind. 2021 will be a touchstone year for virtual collaboration and how we secure it. Here are my top predictions on what organizations will face as we experience the new normal of the "new hybrid office" and further embrace modern collaboration tools.
The traditional office as we know it will permanently change.

Having all employees work in centralized offices for a full workweek has been forever altered by the pandemic-specific concept captured in the phrase 'work-from-home.' Instead, the benefits and value of a more permanent 'work-from-anywhere' environment powered by collaboration platforms and cloud-based applications will win out. Even in a post-pandemic 2021, the traditional office will be replaced by a new hybrid office and remote collaboration-based workplace.

Organizations will double their usage of cloud-based video conferencing and collaboration tools in 2021, resulting in more risk and compliance violations.

The vast majority of video users will turn on their cameras most or all of the time – leading to video hosts suffering from unintended incidents as their cameras capture NSFW events or controversial background scenes. This will result in an increased amount of compliance violations.

New collaboration features such as person-to-person payments will make security a headache.

Collaboration platforms will add new, dynamic features at a furious pace that will make it more difficult to monitor and configure security options. These platforms and APIs will be built to facilitate new activities, like sending and receiving payments, that will further increase the risky and regulated activities on those platforms – forcing companies to increase the security and compliance of their API and integration features.

Collaboration security will be a top priority for government.

Incumbent collaboration tools (Zoom, Teams, Webex) are going to get dragged into conversations about privacy law and big tech, further pressuring them to stay on top of security and compliance capabilities. At least two regulatory agencies will make explicit statements about regulatory obligations to retain and supervise collaboration conversations. Additionally, collaboration tools will replace many call center interactions and force organizations on related compliance, privacy, and security risks.

Regulators will no longer show compliance-related leniency to the financial services industry.

The existing no-action letters allowing for the adjustment to temporary work-from-anywhere environments will lapse, and regulators will expect finance firms to adhere to communication compliance requirements even in a remote workplace that uses collaboration tools. This will exacerbate fines and enforcement actions, which will continue to mount in 2021 for communication supervision failures, likely significantly surpassing 2020 numbers.
Collaboration-related personal injury lawsuits will begin to crop up.

There will be a wave of court cases involving bad conduct and abuse within online meetings across video, voice, and chat interactions. Public examples of sensitive, non-public, personal, and/or proprietary data exposed by employers, employees, and/or customers during collaboration sessions across video, voice, and chat interactions will increase.
Industries across the board and organizations of all sizes are beginning to embrace the new normal of a digital workforce – implementing the latest collaboration tools to stay connected seamlessly with their teams. In 2021, we will undoubtedly, see organizations further adopt modern collaboration tools, while at the same time, keeping security and privacy top of mind. As a result, organizations will have no choice but to integrate collaborative solutions with security and compliance platforms – to help alleviate compliance challenges and scale security detection to teams of all sizes and calibers or face the consequences, including hefty fines, security breaches, or worse.