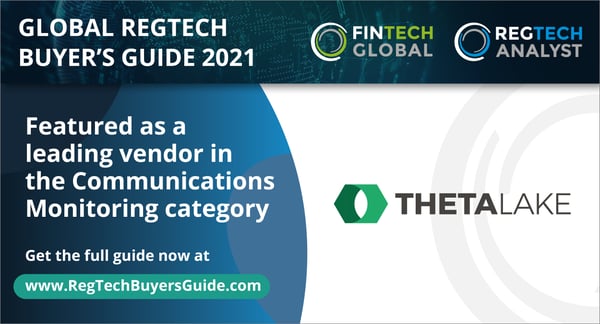 FinTech Global released its annual Buyer's Guide this morning, which spotlights financial institutions and supplier ecosystem members in the regulatory technology (RegTech) market. The guide is intended to be a tool for financial institutions to navigate the available solutions, technologies, and suppliers of the RegTech market.

Included in the guide are:

an overview of the RegTech market
articles written by a panel of experts ranging from what critical issues need to be addressed, key things to look for when evaluating a risk management or AI solution, and how COVID has changed the buying experience
case studies (17 of them!) providing different perspectives on how financial institutions have solved their RegTech issues.
company profiles of some of the leading
and most innovative companies across different RegTech subsectors
Theta Lake is excited to be included in the guide with specific information on how we serve this industry. Our own VP of Compliance, Marc Gilman, is included as an expert.
To read the full guide, purchase it now from FinTech Global's site.