Compliance and security for modern collaboration platforms like Zoom, Microsoft Teams, Cisco Webex, RingCentral, Red Box, and more is critically important particularly in light of the increase in usage of these platforms. To help you navigate the complexity and demonstrate a better way of conducting compliance and risk detection within these platforms, we've created a webinar series that deep dives into various areas. This post contains our upcoming webinars that you can attend live and others that are available on-demand. Each is between 10 - 25 minutes in length.
HOW TO: Create Compliance Archiving and Supervision Workflows for Zoom, RingCentral, Microsoft Teams, Webex, and More
March 24 9am PST / 12pm EST REGISTER
Are you using Excel spreadsheets, email, or other manual solutions to manage how modern collaboration communications like video conferencing, voice calls, and chat are reviewed? If so, there is a better way. Using automated and optimized workflows to handle the entire process including routing of requests, full context delivery for better decision making, and appropriate triggers based on YOUR company's needs will reduce the amount of time and human resources needed to manage the process while ensuring that valuable time isn't spent on non-necessary review. In this webinar, we'll show you how to create workflows that streamline your processes, reduce manual work, reduce complexity, and increase utility.
HOW TO: Frictionless Integrations Reduce Effort and Time to Compliance with Cisco Webex, Microsoft Teams, Zoom, and more
April 7 9am PST / 12pm EST REGISTER
Integrating. The idea and process of integrating software platforms can sound scary, intimidating, daunting, time-consuming, and [insert your adjective here]. But it doesn't have to be, not when it's done right. In this webinar, we'll show you how to quickly and easily integrate your modern collaboration platform vendor with a security and compliance platform that enables automated, AI- and NLP-based review, remediation, alerting, and more for video, voice, and chat. If you use Zoom, MS Teams, Webex, RingCentral, Red Box, Slack, and more, you'll want to join us.
HOW TO: Improve eDiscovery, Legal Hold & Case Management for Zoom, Webex, Slack, RingCentral, Microsoft Teams, and more
April 20 9am PST / 12pm EST REGISTER
Remote work has become the new normal thanks to adoption of team collaboration services like Zoom, Webex, Microsoft Teams and Slack. These collaboration platforms boost productivity and make it exceedingly easy for employees to chat, share documents, and display files and images on the screen with other employees, partners, and customers. However, they also create potential legal, privacy, and compliance risks if not properly supervised. In this webinar, we'll show you how to use our Legal Hold Case Management for rapid eDiscovery by providing instant search across all video, visual, voice, SMS, and document content created from unified communications platforms.
HOW TO: Identify Security and Compliance Risks in Zoom, Slack, RingCentral, Microsoft Teams, and Cisco Webex Communications
MAY 5 9am PST / 12pm EST REGISTER
As of December 2020, Microsoft Teams had 115M daily users on its platform across 500,000 organizations. With usage of collaboration tools spiking, the potential for risky behavior and failure to comply with regulations can increase substantially if proper oversight is not in place. In this webinar, learn how easy it is to identify high risk conversations across voice calls, video meetings, and chats and ensure proper oversight to minimize litigation, regulatory, and reputational risk.
ON-DEMAND
HOW TO: Effectively Search and Review Voice, Video, and Chat Communications for Better Compliance and Security REGISTER
What we're talking about: Modern collaboration tools not only offer many ways to connect with co-workers, customers, and prospects, but the communications they facilitate can also introduce instances of risk to the organization. There is a better and automated way to find those areas of risk and obtain compliance than manual review and sampling. In this webinar, we'll explore how to effectively search and review content generated from various communication platforms, including the most common vendors such as Zoom, MS Teams, Cisco Webex, RingCentral, and more.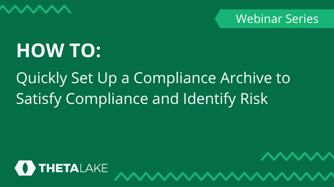 HOW TO: Quickly Set Up A Compliance Archive to Satisfy Compliance & Identify Risk REGISTER
What we're talking about: Archiving electronic communications is a first step to ensuring compliance with regulatory requirements like MiFID II, Dodd Frank, and FINRA. In this webinar, we'll show you how to quickly set up a recording archive for your voice, video, and chat conversations as well as how the Theta Lake archiving service works seamlessly with the leading modern collaboration platforms vendors such as Zoom, MS Teams, Webex, RingCentral, Red Box, Fuze, Verint, and more.
---
Still looking for more content from Theta Lake? Check out our full webinar schedule (upcoming and on-demand) here. For videos, solution briefs, white papers, and more, click here.