To say that cryptocurrency has been a hot topic in financial services of late is a massive understatement. Coinbase announced (via Twitter, natch) that it submitted an application for registration as a Futures Commission Merchant under NFA and CFTC rules. However, the enthusiasm around Coinbase's FCM announcement was likely offset by the withdrawal of its proposed interest-bearing Lend product after concerns about its security-like features prompted preliminary interest from the SEC. In other regulatory developments, the emergence of technologies for vetting and tracking digital assets for anti-money laundering and know your customer purposes are advancing rapidly. Look no further than MasterCard's acquisition of CipherTrace as evidence of an increasing focus on transactional activity tracking and the lightning fact evolution of more mature AML/KYC processes for blockchain-based and other digital currencies.
And notably, the SEC, CFTC, and NYDFS have been active in crypto enforcement, despite the fact that, apart from the DFS, highly structured regulatory regimes are still in a relatively nascent state. However, regulatory hurdles have not stopped the industry from barreling ahead as the first Bitcoin ETF has been introduced on the NYSE, and the SEC has indicated that it will allow these Bitcoin products into the marketplace.
At Theta Lake, we're tracking the normalization of digital currency and its gradual inclusion in wealth management and institutional portfolios. We know that many customers place meaningful restrictions, if not outright bars, on recommending these products to align with emerging regulatory requirements and as a general precautionary measure. As a result, our September product release introduced a new AI-based detection to assist organizations in identifying when employees are engaged in discussions about cryptocurrencies, digital assets, or crypto exchanges over modern collaboration, chat, and audio platforms.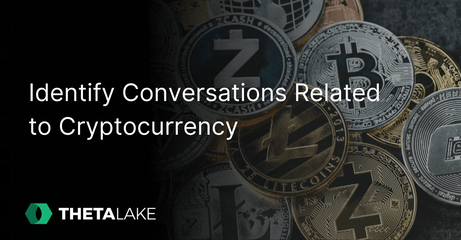 Theta Lake's cryptocurrency detection scans every aspect of collaboration conversations—screen shares, webcams, whiteboards, voice, chat, and file transfers—for discussions of relevant cryptocurrency products (including Bitcoin, Ether, DogeCoin, Binance Coin, Litecoin), exchanges (such as Gemini, Bakkt, Paxos, Bitstamp), and related topics (like Satoshi, stable coin, fiat currencies, initial coin offerings). As is standard with our pre-trained, AI-based detections, we leverage our TranscriptionRN technology, to analyze content in context and identify relevant conversations with word look-a-likes, sound-a-likes, and even flag content with typos or other transcript anomalies.
For example, Theta Lake can flag Zoom phone conversations about a Bitcoin investment, Microsoft Teams screen shares of the Gemini trading interface, or Webex Teams Chats discussing the viability of stable coins. These detections can be coupled with our existing classifiers to understand when promissory or coercive language is used, or when employees attempt to take crypto conversations offline to WhatsApp, Signal, or WeChat. Given that crypto discussions often contain other risky behavior, Theta Lake's broad risk detection capabilities help compliance teams to home in on and review relevant conversations easily and efficiently.
For firms seeking transparency into crypto conversations occurring in hybrid work environments reliant on collaboration tools like Zoom, Slack, Microsoft Teams, and Webex, our detection is absolutely essential.
To learn more about Theta Lake's Security and Compliance Suite and our AI-enable detection for cryptocurrencies and other regulatory, privacy, and cybersecurity risks please contact us at sales@thetalake.com.