With the mass pivot to work-from-anywhere (WFA) business models, collaboration platforms have saved the day. Their feature-rich communication capabilities made it possible for organizations across industries to transition to remote work, without skipping a beat on the communication front.
With its success, certainly the WFA model is here to stay in some form or another, and collaboration use will remain as a de facto standard employee tool. So, it's essential for organizations to begin managing the potential data loss risks that are also an inherent part of collaboration use.
Like what, exactly?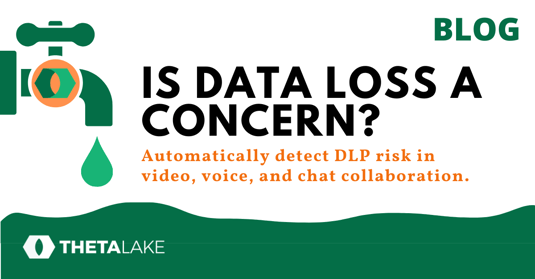 Think about all of the ways employees use video, voice, and chat to communicate with collaboration tools. During a meeting with just a handful of attendees, a lot of confidential topics may be discussed, data shared on screen, and files transferred over chat. And all of it bypasses a company's traditional data protection tools.
This represents a large blind spot for potential data loss that can lead to downstream risks that negatively impact a company's reputation and bottom line. The good news is that shoring up this data exposure risk isn't a complex undertaking.
Theta Lake provides an automated and simple solution to mitigate the depth and breadth of data privacy risks that can occur in collaboration tools:
Detects contextual risks across communication types: calls, chats, video meetings

Provides comprehensive coverage across content and apps

Detects risks based on an app's sensitivity and the context in which it is used
And provides you with:
Eliminates data loss blind spots - Proactively detects private and sensitive data exposure risks in media-rich collaboration platforms

Enables safe adoption of collaboration capabilities - Empowers organizations to adopt collaboration features, without worry

Reduces data security monitoring costs - Provides more insights via integration for other security and data privacy tools
Want to learn just how easy Theta Lake makes it to protect against data loss?