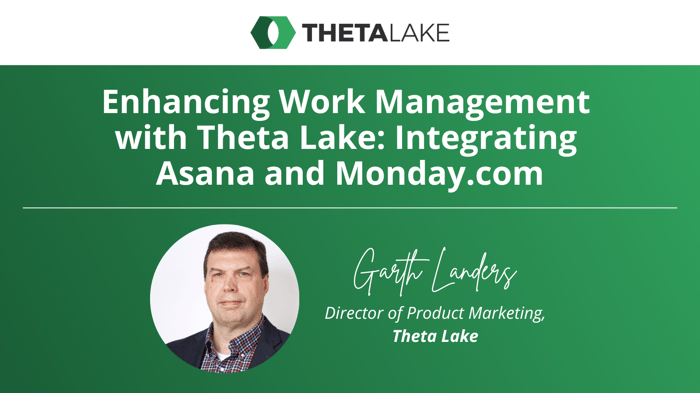 In today's dynamic business environment, with teams often distributed across multiple geographies, effective work management is crucial for organizations to stay organized, collaborate efficiently, and meet project deadlines. To streamline work processes and enhance productivity, many companies rely on popular work management tools like Asana and Monday.com. However, ensuring compliance and mitigating risks associated with these platforms can be challenging.
Firms subject to regulatory oversight such as SEC, FINRA and FCA requirements often grapple with where to begin compliance efforts in work management solutions. The idea of applying compliance controls to work management can almost seem antithetical, much like applying the brakes hard while putting your foot down on the gas pedal of a car. How can compliance be unobtrusive in applications like work management- which consist of multiple tools, interfaces and user interactions? This kind of analysis can lead to inertia, and in the worst case scenario, an unwillingness to adopt and apply work management solutions, hampering productivity. Sometimes, firms will also take the approach of exporting data manually on a weekly or monthly basis and performing spot-check compliance review. This is not a scalable solution and as adoption continues to increase, a more automated workflow is crucial.
To gain control and apply compliance coverage to work management tools, the ideal solution is to begin with content capture for effective recordkeeping and downstream compliance review. That's where Theta Lake comes in, offering seamless integration and comprehensive compliance solutions for Asana and Monday.com users. Leveraging purpose built, API driven integrations, Theta Lake can fully capture essential elements and data from work management systems.
Theta Lake's Content Source Integrations for Monday.com and Asana automate the capture of changes made to dozens of attributes such as: task comment posts, task names, assignees, collaborators, custom fields, edits, replies, emojis, attachments, comments and GIFs, eliminating the need for manual export of data, saving time and resources for IT. After ingestion, content is threaded natively so that reviewers can easily gain key insights into context and identify potential data loss or regulatory risk. Theta Lake can act as the archive of record for institutions needing to comply with SEC 17a-4 Books and Records, or act as an archive connector and route content captured in Monday.com or Asana to a customer's existing storage infrastructure such as AWS, or Azure or their current archive platforms such as Veritas, Mimecast, and more. Alternatively, customers can bring their own storage and encryption keys to leverage their existing resources.
Benefits of Theta Lake Integrations
Compliance and Risk Mitigation: Theta Lake's integration with Asana and Monday.com allows organizations to capture and analyze communications and content within these platforms, ensuring compliance with industry regulations. By monitoring and detecting potential risks, Theta Lake helps organizations mitigate compliance breaches and avoid costly fines. Theta Lakes intuitive simple administration is intuitive and provides a single pane of glass into compliance and ediscovery scenarios with the ability to see the "big picture".
Enhanced Security: Theta Lake provides robust security measures to protect sensitive data within Asana and Monday.com. With features like data encryption, access controls, and secure storage options, organizations can ensure the confidentiality and integrity of their work management data.
Streamlined Review and Supervision: Theta Lake's AI-powered capabilities enable efficient review and supervision of communications and content within Asana and Monday.com. By automatically detecting and flagging potential compliance violations, organizations can streamline the review process and focus on addressing critical issues promptly.
Seamless Collaboration: With Theta Lake's integration, organizations can leverage the collaborative features of Asana and Monday.com while maintaining compliance. Employees can communicate, share files, and collaborate within these platforms, knowing that their interactions are being monitored and archived for compliance purposes.
Asana and Monday.com have revolutionized work management, enabling organizations to streamline processes and enhance productivity. However, compliance and risk management remain critical considerations. Theta Lake's integrations with Asana and Monday.com provide organizations with the tools they need to ensure compliance, mitigate risks, and maintain a secure work environment while unleashing the productivity that today's modern work management solutions can deliver.
Learn more: