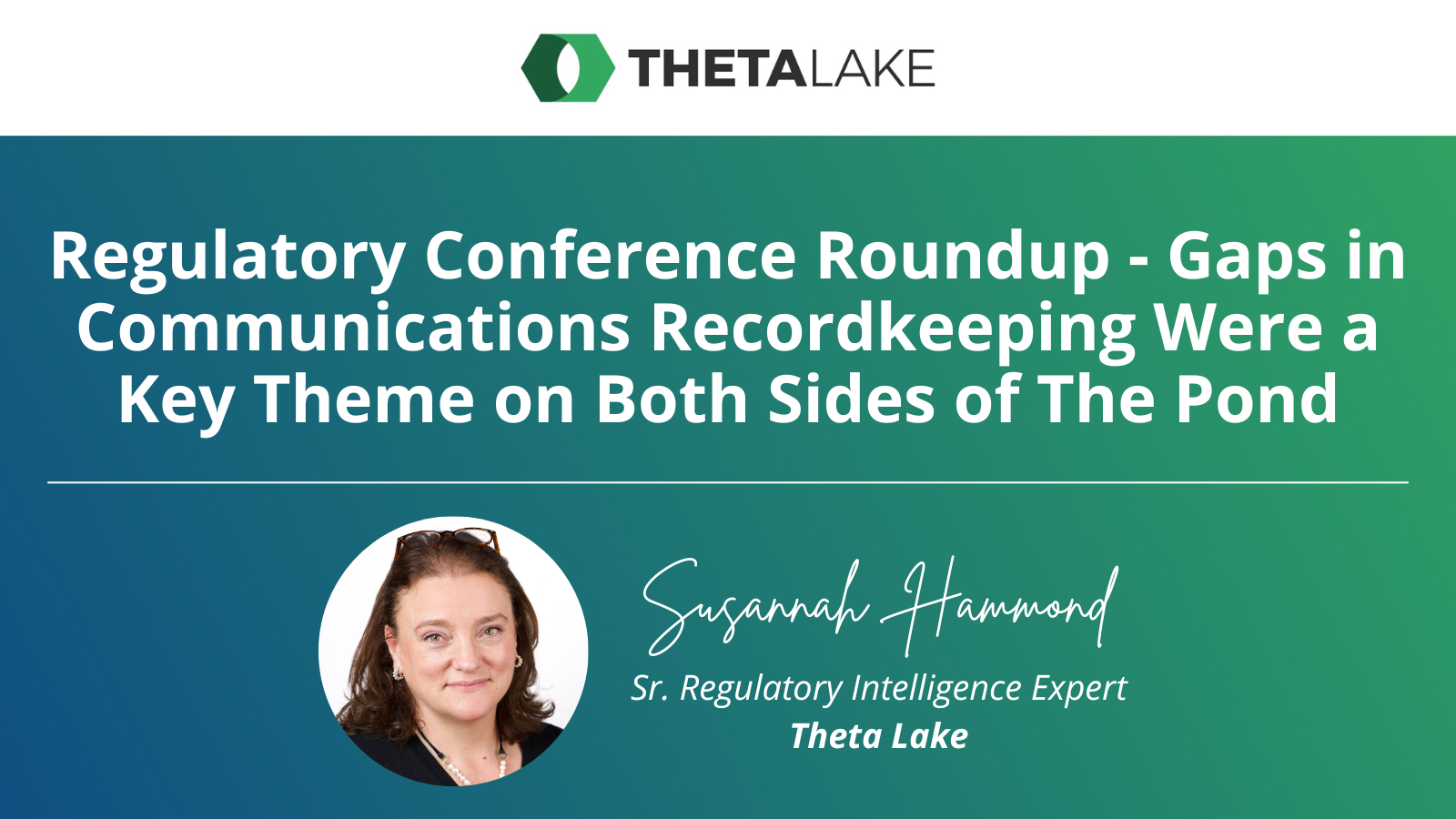 Spring 2023 has seen a busy conference season with financial services practitioners getting together to discuss current compliance and security challenges. Theta Lake's experts presented at multiple forums and locations alongside both regulators and other senior industry figures. From an exceedingly wide-ranging set of agendas with over a thousand attendees, a central thread of the need for complete communications records and oversight was highlighted.

Fundamental to those discussions was the need for firms to have comprehensive records of all communications. That is the capability to capture all content and context (voice, video, emojis, GIFs, SMS, etc), preserve that content and subsequently retrieve it in its native context. Not least because complete records are the inescapable prerequisite to enable robust surveillance, eDiscovery and reporting.
The conferences
In March 2023, the London-based 1LOD Video & Voice Surveillance Deep Dive posed a series of questions to its participants including:
The point being made that banks appear to have chosen the stance that a lack of specific regulation on recordkeeping and capture of all modalities has led to a risk-based approach. As the 1LOD post event roundup pointed out '...it ignores the obvious point that bad actors will migrate to channels which are not monitored, and clients will move to technologies which are easiest for doing business'.
The April 2023 London Financial Services Risk and Compliance conference highlighted the unintended consequences of switching off features and functionality within collaboration tools. Choosing to switch off, say, chat in collaboration platforms such as Zoom will drive users to other, unmonitored, communication channels. This legacy approach to compliance is creating far more dangerous regulatory risks in a Unified Communications environment. Solutions such as Theta Lake are built for modern communications, enabling complete data capture, retrieval and oversight so firms can not only safely switch on collaboration tool functionality but also maximize the ROI of the platforms they've invested in.
May 2023 saw the U.S. FINRA annual conference in Washington, DC where panels touched on a variety of technology and compliance topics including AI, RegTech, and cybersecurity. Of particular interest was a session on "Redefining Communications Compliance for the Digital Age." Panelists discussed the spate of recent SEC and CFTC electronic messaging capture enforcement actions as well the challenges posed by collaboration and chat platforms. As these topics resonate well with Theta Lake, several interesting discussions of our smart capture and supervision capabilities were conducted at the booth throughout the two day event.
Also in May was the London Global RegTech Summit 2023. Again there was a focus on the ability to capture all content. As might be expected the role of AI was discussed (including the recent 'noise' about ChatGPT) but AI can only come into its own if it is working off a complete, native context dataset.
"During a discussion panel, the words of Susannah Hammond made me realise how integral record keeping is for strong regulation, which has been overlooked and poorly managed with the shift of focus to new technologies." Alice Smallman, Bank of England via LinkedIn
Global theme
Four separate conferences but with similar challenges around communications compliance. The conversations around record keeping and data capture are set to continue though, as witnessed in recent enforcement action, firms would be very well advised to make 'significant investments in new technologies to facilitate compliant communications'.
How Theta Lake can help
Theta Lake's multi-award winning product suite provides patented compliance and security for modern communications utilizing over 100 frictionless partner integrations that include RingCentral, Webex by Cisco, Microsoft Teams, Slack, Zoom, Movius and more. It is exactly the kind of technology investment referenced in one of the firm's own remedial actions to facilitate compliant communications.
Theta Lake captures and compliantly archives communications including videos, voice, chat, screen share and file transfer from mobile messaging platforms to SMS and WhatsApp to enable compliance with relevant record keeping and other requirements. It also acts as an archive connector, enabling existing archives and data storage to be utilized without disruption.

AI-enabled automated detection of potential or actual misconduct requiring reporting to the risk committee or regulator. Identified risks are surfaced in an AI-assisted review workflow providing an efficient and effective review process for compliance teams. Theta Lake has more than 85 risk detections which are pre-trained and ready for customer use with customers able to provide feedback and training on the classifiers.

The ability to ensure that all aspects of messaging can be preserved, and a full audit trail provided to supervisors, regulators or prosecutors. For example, chat messages can be viewed in their native format over the entire history of the conversation with full context retained together with in-meeting communications and images, GIFs, emojis or reactions that change meaning and context.

Theta Lake's compliance suite is SOC2, Type II audited and maps controls to ISO 27001 so confidential, privileged or sensitive data can be automatically redacted to meet data privacy and other legal obligations.
Ways to Learn more:
You can find further regulatory perspectives from Theta Lake here.

Get our guide: "Smart Compliance Capture Considerations for Unified Communications" which outlines a buyer's checklist to use when evaluating capture solutions.

Join us June 22 for a 30-minute demo webinar featuring RingCentral! Register here.