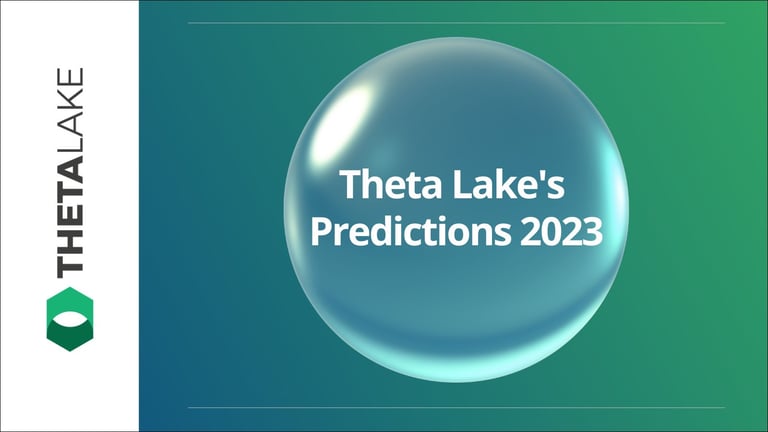 Theta Lake has taken a look in its crystal ball to consider what is likely to be a priority for firms in 2023. What is crystal clear is that now, more than ever, organizations need a modern approach to compliance and security across their modern unified communications (UC) like
Zoom
,
Microsoft Teams
,
Webex by Cisco
,
RingCentral
and
Slack
to not only tackle today's challenges but also thrive into the future.
Firms will embrace UC tools to gain competitive advantages.

As part of the digital transformation, IT budgets will favor voice, video, chat, whiteboard, document, and project tools that improve productivity, connectivity, and information sharing as well as customer acquisition and experience. These

investments and ROI expectations will drive the adoption of currently disabled features in Zoom, Teams, Slack, RingCentral, Mural, Webex by Cisco, etc.

Meanwhile, firms that choose not to modernize

their UC and compliance stacks and rely on policy-based controls in an attempt to block or manage use of these core features will feel the pain of being judged by regulators, customers and competitors against peers that are already in the process of modernization. As a result the growing gap between firms that embrace the full features of UC tools compared to those that try to prevent the evolution to UC will begin to show in the improved topline, bottomline, and compliance of the former over the latter.



There will be an accelerating feature enablement race to improve compliance.

I

t is already clear that firms choosing to disable features in Microsoft Teams, Zoom, Cisco, RingCentral, and Slack face a continued escalation of non-compliance, record keeping gaps, and audit issues as employees and customers circumvent unenforceable bans for productivity needs. As a key part of future feature enablement, firms will look to integrated communication suites with rich mobile capabilities, including SMS, to drive employees to engage and communicate on dynamic platforms enabled by modern supporting compliance controls. Strategically, this shift by IT, UC and compliance teams towards getting engagement and usage of compliant UC tools will improve compliance, and reduce the incidence of employees circumventing blocks to use off-channel platforms.




Fines for unmonitored communications will extend across sectors and geographies. The $2bn+ fines imposed on U.S. banks for failing to capture chat communications are the thin end of the wedge for regulatory focus. Firms from all sectors and all geographies should be prepared for regulatory scrutiny of their ability to capture, monitor, retain and retrieve all relevant communications. From the UK Information Commissioner's call for a

review

into the use of private messaging apps by the UK Government to the reported U.S. federal agency scrutiny of private equity and asset management firms there's no slowing down of investigations into record keeping failures.


Individual accountability will make communications compliance a boardroom priority. As the regulatory scrutiny on communications intensifies alongside ever escalating fines, we can expect to see senior individuals facing personal consequences for compliance failures, putting the spotlight firmly on the compliance and security of UC powering today's modern workplace. Given firms themselves have already taken action ranging from demotions and exiting of individuals to board members voluntarily foregoing variable pay in acknowledgement of recordkeeping failings, communications compliance will be on every C-Suite agenda. And with the recent $2bn+ penalties mandating a review of individual conduct, it is entirely possible that there will be

future liability

for senior individuals. Strategically organizations are shifting their priorities from simply enabling a hybrid modern workplace with UC tools to ensuring compliance and security is front and center for all communications.


Video everywhere, for everything. The use of video will continue to accelerate in line with regulatory expectations for firms to be much more proactive in their approach to compliance. The already vast reach of video, from Zoom Rooms at AMC theaters to wealth advising, healthcare, education, and global cybersecurity coordination, is supported by the results of Theta Lake's fourth annual survey

report

which found that 63% of organizations use video as much or more than email. With 78% of respondents in financial services anticipating regulators will increasingly expect firms to monitor video communications, organizations need to ensure they have modern tools deployed to enable the capture and oversight of all relevant video, and are able to explain their compliance approach.


UC compliance will expand outside of regulated users. Firms will seek to mitigate growing compliance and security risks by expanding their capture and oversight of communications beyond directly regulated activities. A point reinforced by Gartner's planning assumptions: By 2025 "35% of enterprise customers will archive workstream collaboration and meeting solutions for nonregulated requirements, an increase of more than sevenfold from 2021." Indeed, we anticipate at least three new high profile instances of poor record-keeping, data exposure, insufficient supervision practices, and legal proceedings due to conduct issues and lack of compliance coverage for UC environments. The approach to oversight and governance is, and will continue to be, a key element of an organization's stance on the management and mitigation of conduct and data privacy risks.


Unified communications will continue to cross pollinate. The concept of application meshing will continue to develop with integrations, such as using Zoom within Slack becoming widespread across UC. This will have a profound impact on regulatory compliance, as compliance teams will be challenged to identify potential risk and policy violations as communications cross modalities, including voice, video and text, and across ingrained application usage. Firms need to be prepared for not only the sheer volume of communications and the need to be seamlessly connected but also the need to be vigilant in the need to plug compliance gaps as cross pollination evolves.


UC and compliance team strategies will align. With modern unified communications underpinning all of today's business, the need for compliance and UC teams to work together in lockstep will be key. Together teams will be strategically aligned on unlocking essential functionality (such as webcams, whiteboards, chat, and mobile), ensuring regulatory obligations are met, and enabling employees and customers to communicate on preferred channels. Both UC and compliance will need to assess their skill sets - it is likely that the next generation of compliance officers will need to develop their technology skills and the UC team will need to familiarize themselves with regulatory expectations and the firm's approach to risk management.


Mobile usage will accelerate. A return to the office has meant a return to travel, being on the go and being in touch anywhere and anytime. As a result, chat and video support on mobile devices across UC platforms will be increasingly critical as organizations seek to enable employee productivity regardless of geography. UC and compliance teams will need to implement a robust joint strategy to both enable mobile apps as users will demand full feature support (such as meeting chat and file sharing) whilst ensuring retention and oversight capabilities are in place.


Organizations will demand control of all of their data. The emerging reality is that firms are changing their approach to data. Organizations now want to host and control data centrally and securely using universally accessible cloud storage infrastructure. Cloud-native platforms offering modularity, flexibility, and simple UC application integrations will be the first choice of privacy-focused, budget conscious firms. As the volume of dynamic chat, voice, video, and text data exponentially increases, accessing, searching, and retrieving this data will be more important than ever. Whether for forensics, financial reporting, internal investigations, or litigation, the ability to understand the contents of complex communication data, organize it, and retrieve it will need to become a core competency. Any inability to manage data could have profound regulatory and other, more damaging, consequences.



_______________________________

About Theta Lake
Backed by the investment arms of Cisco, RingCentral, Salesforce, and Zoom, Theta Lake's multi-award winning product suite provides patented compliance and security for modern collaboration platforms utilizing hundreds of frictionless partner integrations including RingCentral, Webex by Cisco, Microsoft Teams, Slack, Zoom, Movius and more.

Theta Lake captures, compliantly archives, and acts as an archive connector for existing archives of record across video, voice, and chat collaboration systems. In addition to comprehensive capture and archiving, Theta Lake uses patented AI to detect and surface regulatory, privacy, and security risks in an AI-assisted review workflow across what is shared, shown, spoken, and typed.

To see how Theta Lake can help your organization safely, compliantly, and cost-effectively expand its use of unified communication platforms we'd love to show you.