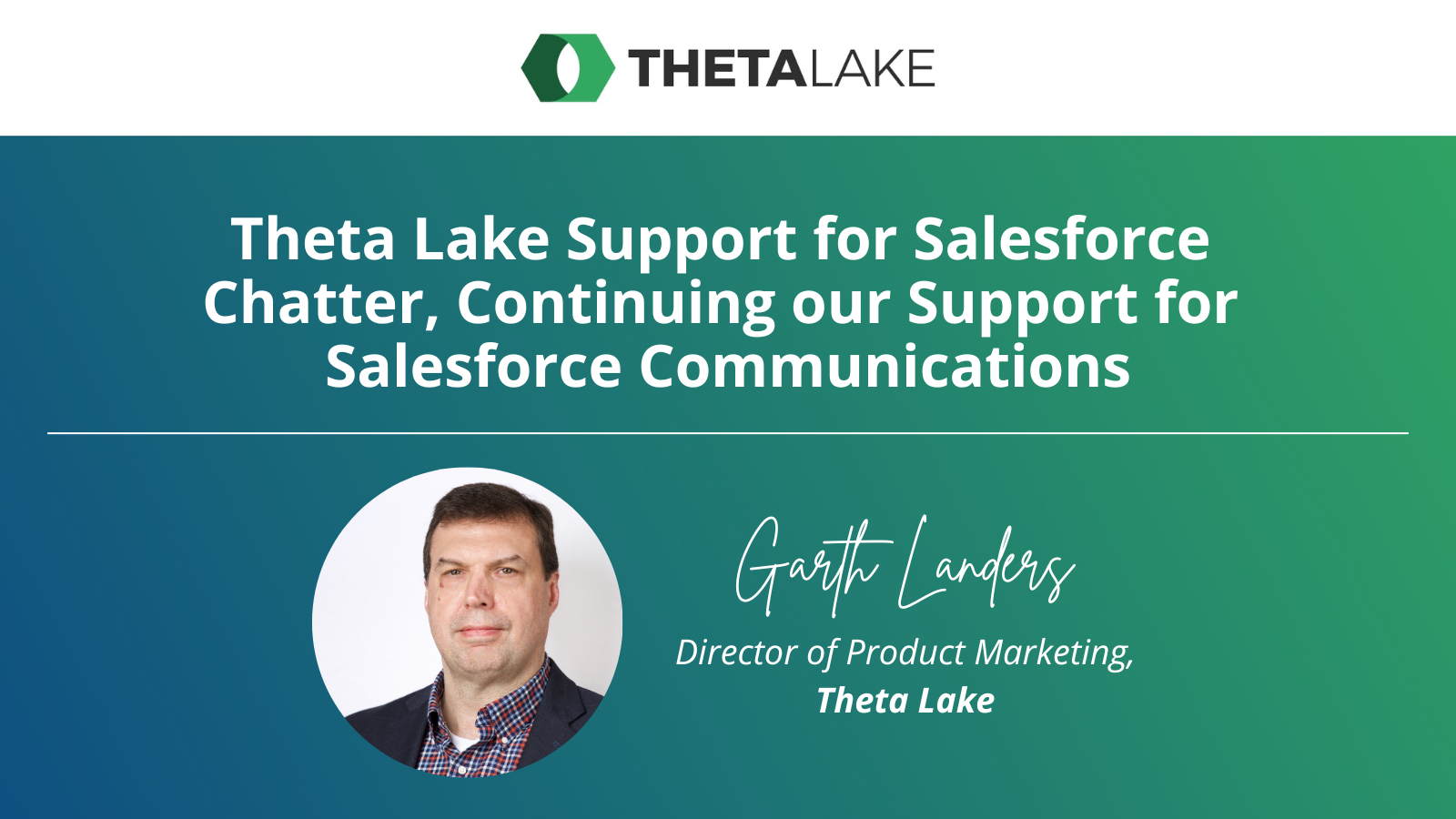 The Salesforce ecosystem encapsulates a wide spectrum of communication types, including instant messaging, enterprise social and email messages to support customer relationship initiatives worldwide, across centralized, hybrid and remote work environments. Firms use Salesforce technologies to foster communication, support customer engagement and ensure customer retention.
At Theta Lake, we have been long supporters of providing tightly integrated solutions for Salesforce communications including Slack as well as Salesforce email (with a focus on capturing BCC copies, which in a regulated environment, can require extra scrutiny). We are also proud to point out that Salesforce is not only a vital partner, but also a key investor in Theta Lake. In addition to these factors, strong market demand for Salesforce Chatter has also resulted in an accompanying need for compliance support for the platform.
Salesforce Chatter operates as an enterprise social network, enabling employees to share expertise, files, and data across the company. The Chatter social network for business allows employees, partners, and customers to communicate and produce content in a secure social environment, helping drive knowledge sharing, collaboration, and productivity which can all be tracked in a single place. Enterprise social networks like Chatter and Microsoft Viva Engage are applications where today's knowledge workers "live", it's where work gets done, they may resemble social networks in their ability to easily communicate and share information, but they are also massive hubs of data, with increasingly important sets of intellectual property that needs to be safeguarded, retained and reviewed for risk, where appropriate.
As a result, we are proud to announce Theta Lake support for Salesforce Chatter.
The Theta Lake integration allows organizations to capture communications from Salesforce Chatter automatically and seamlessly through a native API. Salesforce Chatter compliance complements our existing Slack and Salesforce-generated email integrations, providing complete coverage for communications created across the Salesforce portfolio of solutions. When connected, Theta Lake Risk and Compliance Suite will capture posts, announcements, questions, and polls posted anywhere in Salesforce Chatter along with comments, replies, answers and private messages.
Like other Salesforce communication streams supported by Theta Lake, support for Salesforce Chatter covers a wide spectrum of use cases including capture/archiving for record keeping, risk detection across 85+ ready made classifications spanning regulatory enforcement, behavior conduct and other policies. In addition, Theta Lake support for Salesforce Chatter includes advanced search, legal hold, and case management for ediscovery with the Theta Lake Risk and Compliance Suite.
Unlike legacy web archiving alternatives for Salesforce Chatter compliance, we don't rely on screen scraping, crawlers or other fragmented approaches to capturing Chatter content. Theta Lake's Smart Capture approach for Salesforce Chatter works directly at the application level through a tight seamless integration that can be configured in minutes (schedule a demo with us to see how) leading to fast time to value, and removing any concerns about possible compliance gaps in your organization.
Learn more: