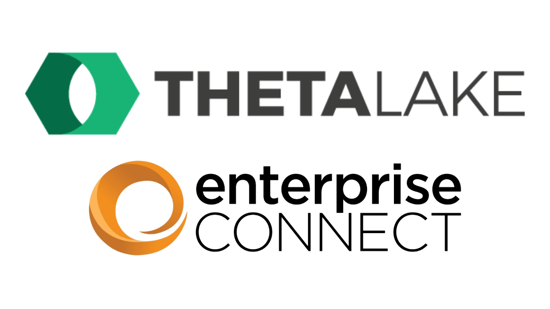 With Spring comes the arrival of a long slate of in person events for Theta Lake. Last week we attended Enterprise Connect 23 in Orlando, FL, the preeminent event for unified communications users, providers and partners. We had a memorable event meeting many new and familiar faces and made some news of our own at the event. Many of our discussions were variations on "I didn't know Theta Lake supported all of these modalities" and "we have had to turn off UC features for compliance reasons and would like to understand how we can compliantly turn them on". These are discussions we were glad to have. Here's a rundown of some of the trends and happenings at this year's show:
The explosion in AI
With all of the talk of ChatGTP and other AI breakthroughs and endeavors in the mainstream, the chatter, buzz and product announcements at Enterprise Connect were also saturated with an infusion of AI. We saw a lot of interest in solutions from UC providers using AI/ML/NLP to deliver services like categorizations of meetings by topic and synopsis and summaries of meetings, great tools for people who did not attend the meetings. Expect to see more innovation and impact on unified communications in this area.
Maturity and impact of unified communications
The last few years have seen the acceleration and adoption of UC to the point where they are entirely mainstream. Modalities like chat and video have or are about to surpass the use of legacy communication mediums like email. Much of the emphasis from a messaging standpoint was about working smarter and how UC platforms were the main place where work gets done in today's enterprise. Expanding on this, we heard about how UC platforms are making work more intelligent, making teamwork more meaningful and strengthening customer relationships. As UC adoption matures and new applications, modalities and ways to collaborate occur, it's important for organizations to think about how they can use unified communications to work more efficiently, and how using UC can be a competitive differentiator in their segment.
The introduction and support of devices for UC
While people usually think primarily about software at Enterprise Connect, the theme of UC-centric devices and hardware was pervasive. There were booth displays and discussions on everything ranging from headsets to specialized monitors and virtual whiteboard hardware. With wearable computing in the mainstream with Google and Apple watches, will UC be the next piece of that puzzle?
The first compliance and security support for whiteboards
On the first day of the event, we announced our support and integration with Mural. Whiteboards are one of the fastest growing segments of unified communications, and we had a great deal of interest from Enterprise Connect attendees, press and analysts. It's becoming increasingly clear that there is a high degree of pent up demand for whiteboard adoption in regulated industries like financial services, but some degree of reticence given the historical lack of compliance support for them.
Theta Lake wins "The Best Of" award at Enterprise Connect 23
As part of the Enterprise Connect awards on the second day of the show, we were named as a co-winner of the "The Best of Enterprise Connect". We were very honored to receive an award with such an incredible litany of past winners and it was for the 'overall' solution, not a compliance or security specific category at the premier event for unified communications.
Overall Enterprise Connect 23 was an energizing event that demonstrated the continued growth of unified communications, the interest and breadth of their great adoption through emerging use cases, the rising interest and roll out of artificial intelligence and growing importance and need for a modern compliance solution for their modern UC tools. We look forward to next year's event!
Learn more about Theta Lake: