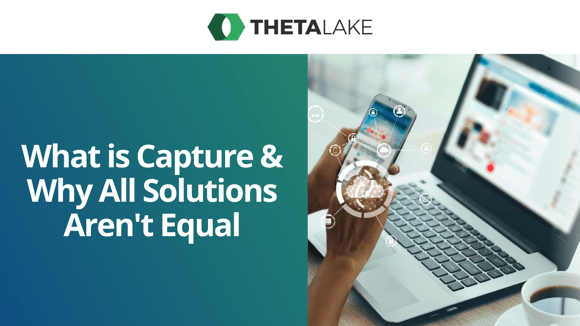 If you're following Theta Lake on social media, via our collateral or newswire you may have heard about "Smart Capture" for communication compliance, archiving, and record keeping and wondered, what is this, what does it do, and do I need it? Before we answer these questions and define what we mean by "smart" it's important to understand the roots of compliance capture for communications and the historical context.
The Evolution of Communication Capture for Compliance, What Does it do?
For our purposes, communication compliance capture began a long time ago in a galaxy, far, far away (the early 2000s) with the advent of email archiving (there has been document capture for longer than with the application of technologies like OCR/ICR and forms processing but it's more like a distant cousin than a direct descendant). Email archiving platforms adapted their ability to journal email messages to also capture instant messages over time, often preserving those early chat messages as individual emails, a practice that continues to this day. Early capture solutions for archiving were more or less about moving data from "point A" to "point B" with very little in the way of capturing intelligence or preserving context of the data. These solutions sufficed in that they drove content to the archive repository.
The Advent of Social Media And Unified Communications And The Impact on Compliance Capture
As modern communications evolved and began to supplant email as the primary channel in the enterprise, not much changed for capture solutions. Legacy archive solutions are about driving content (email, files, chat) to the archive with an emphasis on storage management and recordkeeping. This infrastructure mindset dominated and perhaps sufficed in the days of on premise email infrastructure. The evolution to cloud based applications combined with a greater velocity, variety (chat, voice, video, whiteboards and more) and volume ("big data") changed the need from containment/storage in capture solutions to a need for greater intelligence, understanding of the data (through preservation of format/context) and validation of what has been captured - more of a governance application approach than a storage/infrastructure one.
The Compliance Capture Coverage Gap
Organizations today find themselves in a powerful contradiction. They want to adopt and enable the latest feature rich unified communications platforms and collaboration tools to empower their employees and unleash productivity. At the same time, governance, risk and compliance requirements make them reluctant to fully do so. According to our annual communications survey, 55% of organizations turn off/restrict functionality including chat, in-meeting chat, screen sharing, video and polls in an effort to maintain compliance efforts in these areas. In effect they are making tradeoffs in productivity and using modern communications as a differentiator in their workplace in favor of avoiding compliance challenges. In addition, they may be missing out on capturing the full ROI of their technology investments. The reason why is clear- there is a dearth of technology providers that can provide the necessary capabilities to bridge these gaps.
Existing Archiving Solutions Have Blind Spots and Limitations
"39% of respondents cite gaps in coverage as a top challenge with their current archiving tools, while only 9% report having no issues."

- Theta Lake 2022 Annual Survey Report

The Need For Smart Compliance Capture
The need for smart compliance capture for communication, or Smart Capture for short, exists because it sits at the intersection of the new (unified communications) and old (archiving) digital worlds. Smart capture seamlessly integrates and captures all communications types, including what is typed, spoken or shared on screen as well as all of the adjacent applications (in meeting chat, polls, whiteboards) and also essentially- the hidden ingredients in today's digital conversations, including emojis, reactions/likes, images/memes and more. Instead of simply shuttling this data (and converting to an email like tools of old), smart capture is about retaining the context and fidelity so that downstream users like legal and compliance can quickly determine appropriate risk or ascertain the merits of a case, without the need to piece email messages together.

At the other end of the equation, smart capture also seamlessly fits into an organization's existing archiving investment so that the compliance capture coverage gap can be reduced and solved quickly.
The Critical Path to Compliance for Modern Communications
Smart capture is essential to enabling the full featured goodness of today's powerful multimodal communications platforms. By using smart capture, organizations can feel confident in deploying new productivity enhancing technologies and embracing all that they have to offer, knowing the compliance capture coverage gap has been accounted for and solved. In addition, smart capture also acts as a flexible enabler of bridging the gap between those modern communication platforms and existing archiving/storage investments, without the need to rip and replace technologies or endure lengthy services engagements and data migrations.
Learn More:
Get our Checklist: This guide details the requirements and checklist that buyers should consider when looking for a smart capture solution, such as Theta Lake's.



Join a Weekly Demo Webinar

: See how to capture, search, & analyze content while leveraging your existing Archive, E-Discovery, & Compliance Platforms.