When is a rocket ship not a rocket ship? When it is cited in a legal case alleging a firm and its control person violated U.S. securities laws by offering for sale to the public certain non-fungible tokens ("NFTs") without filing the required registration statement with the Securities and Exchange Commission (the "SEC").

The use of emojis was specifically called out as meaning there was an expectation of profit for the NFT issuance, which was then deemed to be an investment contract (*known as the Howey Test). Although the literal word "profit" was not used in any of the organization's Tweets, the "rocket ship" emoji, "stock chart" emoji, and "money bags" emoji were included and, objectively, mean one thing: a financial return on investment.

Emojis are an inherent part of modern communications but they must, in a business context, be treated with care. The use of emojis to illustrate or emphasize a point is commonplace and organizations need to be aware that the same rules apply to communication by emoji as with all other communications. That brings the risks associated with communications with the public in terms of misleading content, investor protection, dissemination of potentially material non-public information as well as the challenges of capturing the full context of an emoji laden conversation. Equally, there are potential issues with emojis being used within a firm with the potential for collusion, misconduct and other socially unacceptable behaviors.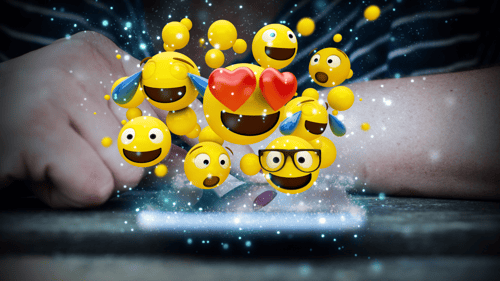 Firms need to ensure that emojis are expressly covered in not only the suite of preventive and detective controls in place as part of the governance framework but also in the guidance given to employees on all forms of communication. Firms also need to ensure that they have the capability to robustly capture emojis (and GIF, edits, reactions and deletions) in their original context so that the meaning of any communication is apparent on retrieval and surveillance.
Emojis are neither good nor bad, they are simply another form of communication which firms need to ensure is within their strategic approach to communications.
How Theta Lake can help:
Theta Lake's multi-award winning product suite provides patented compliance and security for modern communications utilizing over 100 frictionless partner integrations that include RingCentral, Webex by Cisco, Microsoft Teams, Slack, Zoom, Movius and more.
Theta Lake captures and compliantly archives communications including videos, voice, chat, screen share and file transfer from mobile messaging platforms to SMS and WhatsApp to enable compliance with market abuse and other requirements. It also acts as an archive connector, enabling existing archives and data storage to be utilized without disruption.

All aspects of messaging are preserved, enabling a full audit trail to be provided to supervisors, regulators or prosecutors. For example, chat messages can be viewed in their native format over the entire history of the conversation with full context retained together with

in-meeting communications and images, GIFs, emojis or reactions that change meaning and context.

90+ AI-enabled automated risk detections of potential market abuse or other misconduct are pre-trained and ready for customer use.

Identified risks are surfaced in an AI-assisted review workflow providing an efficient and effective review process for compliance teams.




Theta Lake's regulatory and data science teams are happy to discuss any of the issues in greater detail. You can find further regulatory perspectives from Theta Lake here or you can join a weekly 30-minute demo webinar here.



*The Howey Test
The Securities Act prohibits persons from offering, selling, or delivering by means of interstate commerce any security unless a registration statement has been filed with the SEC. The Securities Act's definition of a security is broad and includes an investment contract within the definition.
The Howey Test refers to the U.S. Supreme Court case for determining whether a transaction qualifies as an "investment contract," and therefore would be considered a security and subject to disclosure and registration requirements under the Securities Act of 1933 and the Securities Exchange Act of 1934. Under the Howey Test, an investment contract exists if there is an 'investment of money in a common enterprise with a reasonable expectation of profits to be derived from the efforts of others'.
As in this instance, the Howey Test is important for blockchain and digital currency projects as certain cryptocurrencies and initial coin offerings (ICOs) may be found to meet the definition of an "investment contract" under the Howey Test. There are four criteria to determine whether an investment contract exists. An investment contract is:
An investment of money in a common enterprise with the expectation of profit (in this instance as illustrated by emojis)To be derived from the efforts of others
The court's conclusion that what the organization offered was an investment contract under Howey was said to be 'narrow' - it was made clear that not all NFTs offered or sold by any company will necessarily constitute a security, and each scheme must be assessed on a case-by-case basis.