It's a straightforward question. With a complex answer.
The debate
The debate between remote versus in-office workforces continues every day as organizations determine the best solution for customers, employees and business operations. The arguments for being physically present such as developing new talent and fostering a company culture are vociferously set against reduced travel or real estate costs and productivity gains. But all this is taking place against a backdrop of uncertainty surrounding government guidelines as well as changing Covid-19 case numbers.
The Uncertainty
Despite the uncertainties, firms are having to make plans and the views and expectations of senior leaders are never far from the headlines. But even those pronouncements aren't clear cut as the requirements and preferences within organizations vary by geography, business unit and even role.
What is certain
As organizations grapple with the decisions about whether to adopt work-from-anywhere, hybrid or office-based models, it's a topic that often comes up in our deployments with customers. What we can be certain of is that collaboration platforms like Microsoft Teams, Zoom, Webex by Cisco, RingCentral and Slack will continue to be integral to communicating, information sharing and interacting both internally and with customers wherever employees work. The installation of 'Zoom rooms' is a sure sign that spider phones in the centre of a table with remote employees dialling in are a thing of the past. The integration of collaboration and chat applications with physical and virtual office environments has recentered conversations about video conferencing and chat compliance, security, and privacy controls
Differing Models
In an attempt to survey differing approaches for returning to the office, we looked at recent news and announcements relating to forty of the largest financial services firms operating in the UK and US and their apparent overall preferences. In practice, all firms are implementing some level of remote working, but it's a constantly evolving picture. To provide an indicative view here's a snapshot of what we found:
'See you sometimes' Credit Suisse, Aviva, Citibank, Natwest, American Express, USAA, Allstate, State Farm, UBS, TIAA, Capital One, Lincoln Financial, Aflac, Bank of New York Mellon, Principal Financial, Synchrony Financial, Travelers Cos, U.S. Bancorp, Barclays, HSBC, Standard Chartered, UniCredit, RBC, Santander, BNP Paribas, Deutsche Bank, ING, Lloyds, Raymond James, Fidelity, Société Générale
'Work where you want' Nationwide
'Back in the building' Goldman Sachs, JP Morgan Chase Wells Fargo, Morgan Stanley, Bank of America, Citigroup, Massachusetts Mutual Life, Group Credit Agricole
Work From Anywhere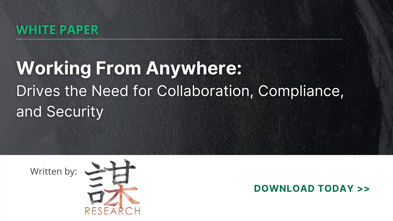 A recent white paper by ZK Research "Working from Anywhere: Drives the Need for Collaboration, Compliance, and Security," found that 42% will continue to work remotely full-time post-pandemic. In addition, 80% of knowledge workers will work remotely at least one day a week. Regardless of where you work, collaboration platforms will continue to be a mainstay, requiring increased attention and priority to ensure that any risky behavior communicated via these platforms can be identified and addressed quickly, easily, and proactively.
For example, in July, the SEC issued fines to organizations that had failed to meet its requirements to share Form CRS with their clients. Using solutions designed to surveil visual content and ensure appropriate disclosures are posted in virtual meeting platforms, the organizations could have avoided the repercussions resulting from this oversight.
Whilst we can't help with your decision about whether to go back to the office, we can help with the compliance and security for your collaboration-first communication platforms. Find out more on our website, thetalake.com or request a live demo.