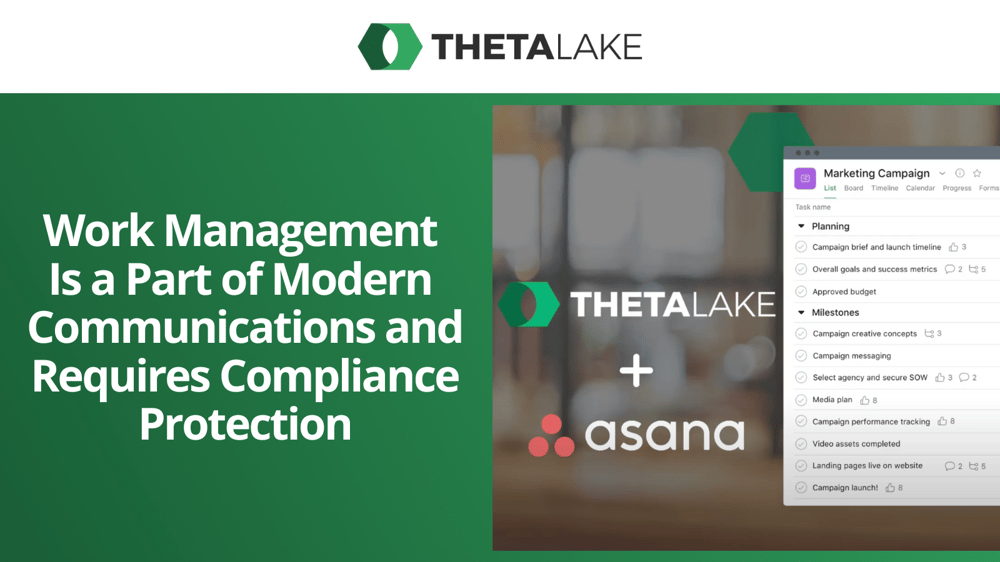 We've been on an innovation roll lately at Theta Lake and it's exciting to announce that we now support Asana, the work management tool used by millions around the world. With this new integration, Theta Lake and Asana joint customers will be able to streamline their workflows, manage tasks more effectively and ensure their compliance needs are met.
Why Asana?
At Theta Lake, we are always looking for ways to help our customers make the most of their collaboration tools and feel confident about embracing all they have to offer for maximum productivity and ROI. Asana is one of the most popular work management platforms available in the market today, with capabilities to support today's enterprises, and we recognize the value it brings. With Asana, teams can easily plan projects and assign tasks to team members, track progress, and communicate more efficiently. By integrating Asana into our platform, we're making it easier for businesses of all sizes to automatically capture and store collaborative communications to stay secure and compliant. By having an active and engaged partnership with Asana, Theta Lake is able to bring first to market capabilities that address governance, risk and compliance requirements for organizations looking to maximize their use of Asana.
How does the integration work?
Theta Lake's integration with Asana enables regulated organizations to automatically capture Asana communications, like 1:1 messages, and within tasks and comments, including attachments, videos, and emojis/reactions. Once captured, Theta Lake provides AI-powered risk detection, dedicated review workflow, and SEC 17a-4 compliant archiving. Theta Lake makes it easy to efficiently deliver proactive compliance enforcement while maximizing productivity. This level of automation is incredibly powerful, as it saves our customers time and effort while also ensuring that their compliance policies are enforced.
What are the benefits of combining Theta Lake and Asana?
Our integration with Asana is a game-changer for businesses that need to ensure secure communication in their project management workflows. Here are just a few of the benefits our customers can look forward to:
Automatic retrieval of all collaborative communications from regulated users/groups of users, including Asana tasks, comments, attachments, videos, links, emojis/reactions, and more.


Analysis of Asana communications and identification of possible regulatory and corporate compliance policy violations.


Automatic flagging and routing of potential violations to risk teams, saving time and reducing manual errors.


Ability to compliantly archive Asana communications for record retention purposes, or connect into any existing archive of record to deliver enriched content downstream.


Reliable compliance across all Asana communications, allowing businesses to stay audit-ready.



"Our close partnership with Theta Lake is a critical step to ensure our highly-regulated customers, especially financial services, can meet their regulatory needs while using Asana company-wide. We are so pleased to have such a strong partner in Theta Lake to automate compliance obligations for communications capture and archival for Asana customers available today."

Kirsten Byron
Enterprise Partnerships, Asana

We're excited to bring this new integration to our customers, and we can't wait to see the impact it will have on their daily work. With Asana and Theta Lake working together, businesses can now rest easy, knowing that their communications are secure, compliant, and always monitored.
Learn more: