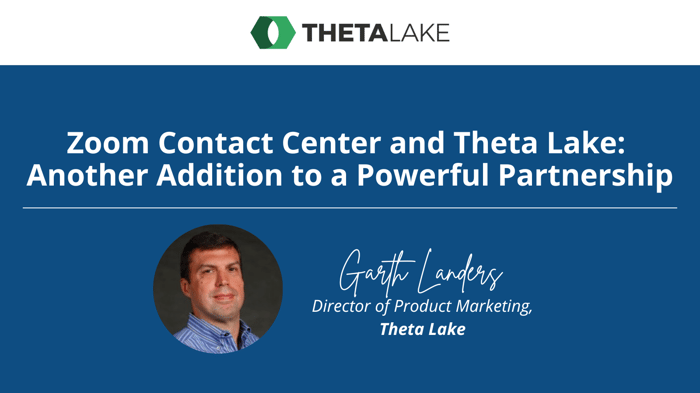 Since 2018, Theta Lake has partnered with Zoom to provide cutting-edge compliance and security for Zoom's unified communications (UC) suite. Our expertise in delivering deep purpose-built compliance and security technology perfectly complements Zoom, particularly in addressing the compliance and security requirements of risk sensitive and highly regulated organizations when using Zoom. This evolving partnership has delivered significant value to leading organizations, including five of the top ten North American Banks, and resulted in Zoom's investment in Theta Lake in 2022. By leveraging this partnership, customers have the confidence to maximize comprehensive and compliant access to the latest Zoom apps and features.
With the most certified compliance and security apps on Zoom Marketplace, Theta Lake continually enhances our integration and deep technology to ensure every new Zoom innovation is covered with cutting-edge compliance.
Introducing the Theta Lake integration with Zoom Contact Center
Currently, organizations struggle to capture and store contact center recordings in the same manner as media-rich unified communications. Management teams conduct regular reviews of agent communications for quality assurance, training, and more. It's not uncommon for this data to contain valuable data like PII and PCI, that must be secured.
Zoom Contact Center is a robust, omnichannel solution that helps businesses deliver prompt, accurate, and supportive experiences for customers and agents alike. For many organizations, these interactions must be captured, retained, and supervised for training purposes and regulatory compliance. Like all of Theta Lake's integrations with the Zoom portfolio, the integration with Zoom Contact Center is seamless, and integration/deployment takes place rapidly.
One of the key benefits of the Theta Lake and Zoom Contact Center integration is the ability to capture and archive voice communications with more to come. This is especially important for IT staff and UC stakeholders, providing a single pane of glass to administer compliance applications and respond to governance events.
With Theta Lake, Zoom admins can capture, analyze, and archive all CC and UC content in a single platform. Content such a PCI can be flagged, redacted, made available for thorough review, and even tagged for legal hold. Content is stored in its native format to make it easy for compliance and legal personnel to discern context and ascertain potential risk. Theta Lake utilizes over 85 built-in, out of the box classifiers to flag risks across Zoom applications, including data leakage, misconduct, regulatory compliance violations and more. The end result for compliance and legal teams is more accuracy and certainty in identifying risk with greater productivity.
The integration between Theta Lake and Zoom Contact Center also offers flexible archive storage options to meet organizations' specific needs. Organizations can choose to deploy the solution on Theta Lake hosted AWS or Azure storage or manage their data by using their own storage accounts in AWS or Azure (Bring Your Own Storage / BYOS). Additionally, organizations have the option to use multiple storage or remote storage locations in AWS or Azure for data residency requirements. Customers can also choose to use and manage their own encryption (Bring Your Own Key / BYOK) if they like. This flexibility ensures that organizations can align their archive storage strategy with compliant capture and retention of Zoom Contact Center – and any Zoom content for recordkeeping purposes.
How to get started
Zoom Contact Center investments are on the rise, and are key buying criteria for unified communications platform choices. Theta Lake for Zoom Contact Center can quickly capture and ingest existing and new data to assist in your compliance management strategy. Drop us a note at sales@thetalake.com or check out our integration page to learn more, or let us know if you have any questions!