A question we often hear from customers is: "How do I manage the sheer volume of content, and how do I get the right reviewers to supervise it?"
Actively supervising your organization's video conferencing content is a key component of compliance requirements of regulated industries, and it mitigates the many data loss and potential acceptable use and security risks that come with the use of modern collaboration platforms. Of course, identifying potential risk or regulatory content requiring review is only the very beginning of the supervision effort. Your supervision solution needs to make it just as turnkey to route the respective regulatory risk content to your respective compliance team as it does the initial risk detection.
In this blog, we want to share insights on the big "what next" question. That is, when you have content to supervise, how can you do away with the incredibly long and complex spreadsheets that are typically used to manage review workflow rules? And how do you triage content and perform the right supervision steps to different types of content based on the different user demographics?
The good news and short answer to these questions is: Theta Lake streamlines all of this for you.
Whether you're handling data loss protection (DLP) use cases, call recording, video conferencing, or chat supervision, or thinking about pre-review, all of these can be uniquely accommodated by Theta Lake's content routing infrastructure.
This is encompassed in two, key capabilities:
Smart Workflow Review

(dubbed "SWRV rules") enables you to define an end-to-end process for content, from what policy should be applied, to what workflow should be used to how it is retained.

Workflows

make it easy for you to define which reviewers receive the content, the actions that reviewers can take on content, and how it is routed before or after the review.
SWRV rules: Accommodating the different types of review that need to happen, automatically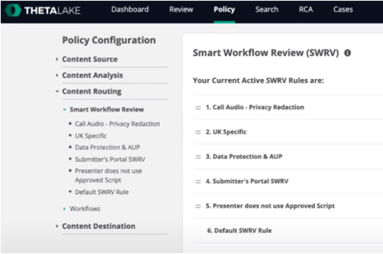 Different demographics in your organization often have different supervision needs based on the content type. Calls and chats may be treated differently from document pre-review, for example. Advisor phone calls will likely have a different policy from company-wide chats.
SWRV gives you the ability to scale and to overcome the complexity in an environment in terms of the different review scenarios based on the variety of use cases for review. For example, SWRV lets you define the exact process you want for a particular type of content for a particular regulation. A Zoom recording in your UK region can have a UK policy applied that then takes the recording through the UK review steps and specific archive policy. This entire process may differ for your US-based entity, who is held to a different set of regulatory standards, which can be accounted for when establishing the workflows.
Workflows: Ability to define workflows for exactly how content is reviewed, what steps to take, and who is involved in each step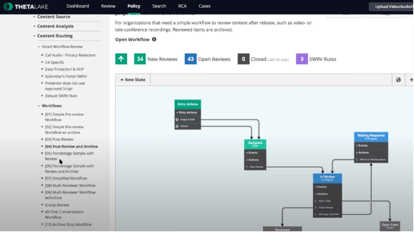 If you've been managing the effort to manually coordinate workflows, you know firsthand how complex and time consuming this approach can be without a custom design and automated routing. For example, a security risk versus a potential misconduct issue will require you to apply different types of review, and that's what SWRV is designed to do. Many organizations have created workflow processes with internal tools, maybe spreadsheets or ticketing systems, that they use to try to manage the process for how they want a review workflow to occur. Theta Lake workflows completely streamline this process for you.
Our workflows provide you with a visual map, making it easy to see the diagram and follow the flow of what you want to occur at each stage. Also, these visual maps make it easy to audit your workflow steps, so you can determine if extra steps, like an action that is no longer needed, can be removed. This empowers you to easily refine your workflows to create efficiency.
This streamlined approach allows you to see what will happen to the content when you put it in the system, such as the review steps that will manifest. And based on first-hand experience from our customers' workflow processes, we've made it simple to get started with a library of out-of-the box workflow templates.
Now you have a choice: select simple, vetted in the real world out-of-the box workflows or customize more complex workflows to your specific needs. In either case. apply the desired SWRV rule for the content to run through and allow the platform to do the work.
Theta Lake packs a lot of power in a turnkey platform that streamlines your supervision process. If you'd like a live demo to view our SWRV Rules and Workflows in action, click the link below.
Request a demo: https://thetalake.com/request-a-demo/