If you didn't have a chance to attend Zoomtopia this year, there's still time to watch the sessions as all are available on-demand. Theta Lake was a sponsor of the show and is a long-time partner of Zoom, offering its users the ability to leverage every aspect of the platform and have full coverage for security and compliance across those communication channels.
We were honored to have been included in several of Zoom's presentations this year. Below are the sessions of interest and their highlights.
Session 305: Zoom in Financial Services: Enabling Compliant Communications
Speakers: Dan Wordsworth, Director and Head of Technical Services, DNA Audio Visual and Kevin Lockhart, Managing Director at Couno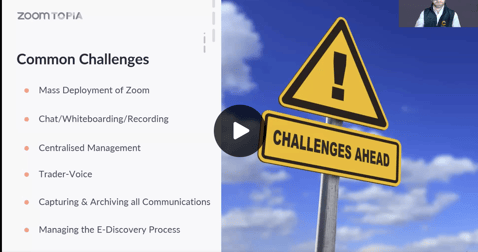 Dan and Kevin discussed the complexity that financial services organizations face when dealing with the newer media-rich modes of communication and compliance requirements. Kevin, who is based in the UK, spoke specifically about MiFID II and FCA regulations and similar versions in the US.
With regulations becoming even more strict regarding the archiving and supervision of communications occurring over collaboration platforms and compliance processes or lack of headcount not keeping up with those demands, financial services globally have resorted to turning off certain functionality (such as chat or whiteboarding) to ensure they can meet requirements. While this may appear to be a quick fix, it's not a long-term solution as it limits the value and ultimate benefits of the collaboration platform.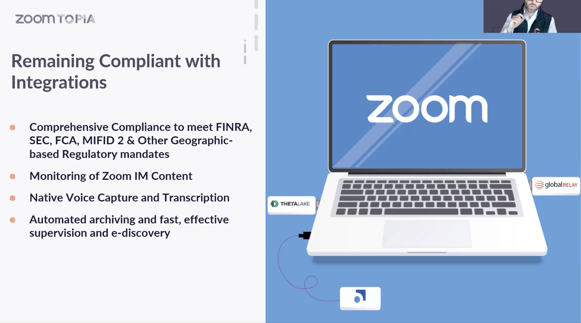 While Zoom has a strong existing archiving strategy, and its partnership and native integration with Theta Lake enables Zoom users to use features that may have disabled because they were not easily able to be captured or supervised. Leveraging Theta Lake's purpose-built solution, Zoom users are able to confidently enable all its functionality because Theta Lake will archive, supervise, alert on risk, and provide automated workflows to address non-compliant aspects.
Theta Lake also offers Zoom users an intelligent archive connector to comprehensively capture all chat messages and seamlessly integrate them into your archive or record-keeping arrangement, retaining the full context of each chat, including all visual images (emojis, reactions, gifs, pictures), links, shared files, and more.
Session 415: Understanding Zoom's Latest Financial Services Product Features and Roadmap
Speaker: Adi Regev, Lead Product Manager of Financial Services with Zoom
Adi reinforced Dan and Kevin's discussion regarding the complexity that financial services face in meeting regulatory requirements for non-email media-based collaborations. Not being able to capture this content or turning off features in the platform for the regulated users can limit the benefit they receive as well as user dissatisfaction.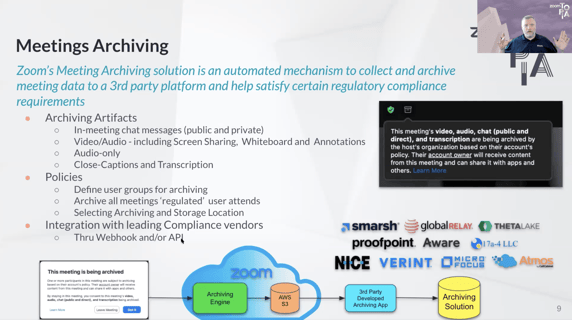 Zoom enables Information Barrier capability, meaning that Zoom administrators can prevent the communication between certain groups within the organization via Meetings or Chat and is typically implemented in regulated organizations. The level of barrier between the groups or individuals varies and can be enabled in Zoom's platform. Theta Lake complements this offering with its own layer of Information Barriers functionality.
Theta Lake's streamlined approach to Information Barriers compliance makes it easy to maintain consistent settings across channels and facilitate the expansion of collaboration platform deployments to meet the demands of a work from anywhere world. Read our blog on this topic.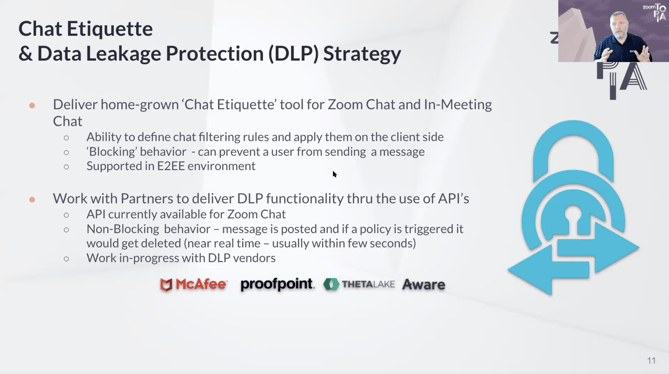 Theta Lake provides the most complete supervision and data leakage detection capabilities across audio, visual, and text-based content by leveraging next-gen AI, helping firms streamline compliance review through automated detection of regulatory, security, data privacy, and acceptable use risks, for a consistent and holistic view of conduct and data sharing risk across all communication mediums.