Collaboration tools like Microsoft Teams, Zoom and Webex Teams, RingCentral and Slack have become integral to how we work. With multiple ways to communicate and collaborate they're vital for keeping workforces and customers connected whether remote, hybrid or office based. And with less and less physical in-person interaction, users are making use of the rich features to liaise and share information. Not least by adding personality and emotion with emojis, reactions and GIFs. But modern communications create compliance challenges when it comes to providing evidence and proof that is so often required for regulatory, HR, litigation or complaints resolution issues.
Providing evidence at speed
Records, evidence and audit trails need to be provided for a multitude of purposes which can include:
Enabling ongoing regulatory supervision or specific reviews for example into market abuse

Reviewing and responding to a customer complaint about advice given
Dealing with internal investigations such as HR matters relating to misconduct
Enabling internal audits to check internal policies, such as acceptable use, are being adhered to
Providing evidence for external litigation, for example about the leakage of sensitive data
Identifying records that need to be removed to meet deletion requests under data privacy laws.
Nearly half of Microsoft Teams users in the latest Osterman research said they had experienced a request within the last 12 months which required access to content for both internal investigations and eDiscovery purposes.
Organizations that are not set up to adequately capture and retain records of communications face significant challenges, preventing them from complying with regulatory obligations such as MiFID II, SEC 17a-4, SYSC 10A, GDPR, CCPA or public information requests, or responding effectively to investigations or complaints. The task is made all the more difficult by the ever-increasing volumes of communications records being created, with Gartner predicting that by 2025, 75% of conversations at work will be recorded and analyzed. Given the ease with which staff or customers can produce their own records or evidence through screenshots or recordings across collaboration platforms means providing evidence quickly and comprehensively has never been so important.
Completeness of evidence
The completeness of records is fundamental when providing evidence but there are inherent challenges in capturing the rich content across collaboration tools. The research highlighted the specific concerns about content being excluded from archiving and eDiscovery, ranging from source files and documents, audio and video files of meetings to reactions and edited messages.
Capturing the context
Capturing and identifying records is one thing. Being able to understand the context of them is another. Attaching a GIF to a chat message, liking a comment or page or adding emojis such as winks, dollar signs or weapons to in-meeting chat can alter the meaning and context. They can also be open to interpretation depending on age. It's not surprising then that a wide and diverse range of content is considered extremely or very important to be able to search and produce, including chat messages, deletions, edits, content in tables, emojis and links.
Making sense of archived records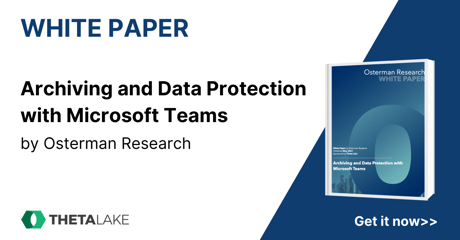 Making sense of archived modern communications can be complex because collaboration platforms operate differently to other communications like email. Favoured communications like chat are ongoing and fluid, and because conversations frequently span multiple days and participants they need to be reconstructed to understand them. Without limitations on chat content type or size means that all the text, audio files, links, images, gifs, emojis and reactions need to be captured to understand the context too.
The regulatory implications
Central to regulatory oversight, records and audit trails enable regulators to verify whether firms have met or breached regulatory standards. With multi-millions of dollars in fines every year for oversight and record keeping failures, firms need to be aware of the continued importance of being able to provide records to regulators in a work from anywhere world. The FCA has reminded firms that compliance with recording obligations remain the same whether staff are remote or in the office.
Reports that banks are asking individuals to retain messages sent on personal devices highlights the challenge of providing compliance oversight and meeting record retention requirements in practice. The recent half a billion dollars in fines for anti-competitive activity and collusion which took place through chat messages is just one example of how essential communications records are for identifying and stopping misconduct, with reduced or no penalties for the banks which proactively reported the breaches.
How Theta Lake can help
Theta Lake empowers organizations to reduce the cost of security and the risk of non-compliance with archive connectors, compliant archiving, and automatically detecting security, data loss, and compliance risks across video, voice, chat, and document content in what is shared, shown, spoken, and typed during collaboration sessions using true AI, ML, and NLP
Comprehensive capture

ensures there are no gaps

. All channels, from group to private messages, in-meeting chat, plus all content, from emojis and GIFs to file attachments, edited and deleted messages, videos and files shared from SharePoint or via desktop upload are captured.

This includes chat and polling from video meetings and webinars without having to record or archive the video or audio from the meeting.

Rapid identification

, and consistent legal hold, of relevant communications, content and images across platforms supports investigations, regulatory reviews, audits or complaints handling.

Full content of chat conversations are captured and displayed in native format ensuring the full context is retained of where content was shared, which messages were edited or deleted, or elicited a reaction.
Easy deployment and seamless integration with existing archives. Theta Lake's Archive Connector enables firms to use their existing email archive or archives while ensuring they have full coverage for all content in Microsoft Teams, Webex Messaging, Slack, Zoom Chat, RingCentral, Symphony, and more. Theta Lake easily sends captured content to one or multiple existing archives simultaneously providing full searchability and a fully native view of chat conversations providing the context in a more natural format.
Find out more about Theta lakes archive connectors and compliant archiving.